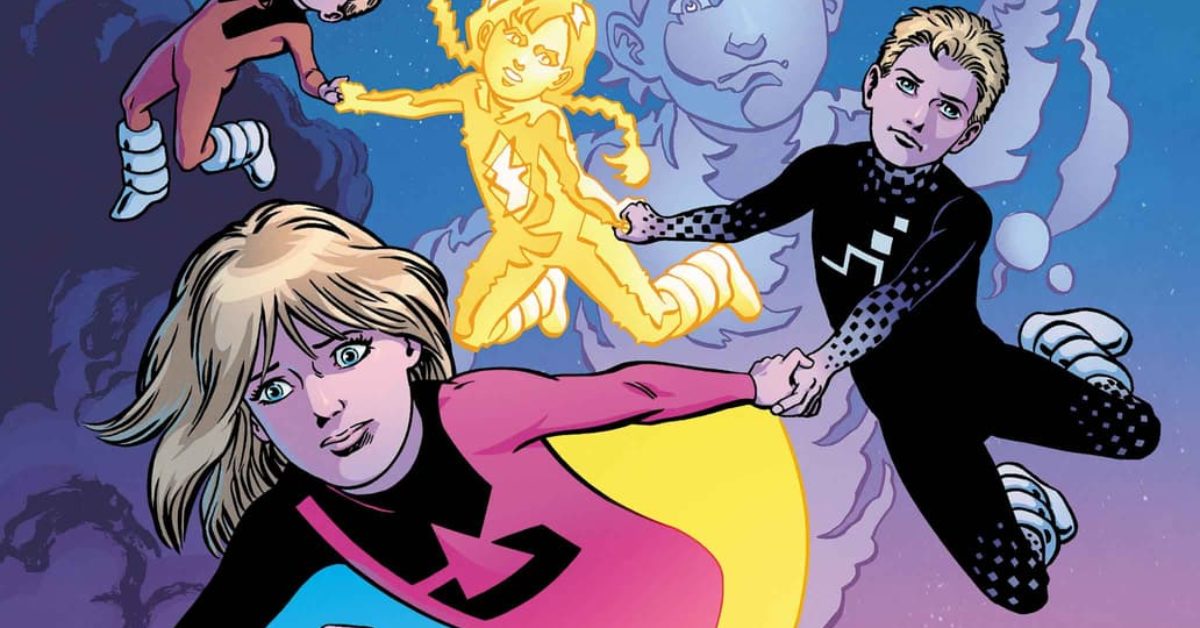 Posted in: Comics, Comics Publishers, Current News, Marvel Comics
It was one of the first American comic books I ever bought, in its actual American form, from the Kiosk newsagent in Pontefract, West Yorkshire. And now, forty years later, Power Pack is back as Power Pack: Into the Storm from the series original creators, writer and artist Louise Simonson and June Brigman, with the first issue being published on the 24th of January, 2024.
Power Pack about four young siblings, the Power family, who gain superpower from an alien source, their seire which began in 1984, lasted 62 issues, and the characters have recurred elsewhere, and in occasional Power Pack revivals, ever since. It was the first team of such young superheroes operating without adult supervision in comics, though the formula in everything from Swallows And Amazons, The Famous Five or The Red Hand Gang was common in other media and genres.
Alex Power, Julie Power, Jack Power, and Katie Power received their powers from a dying alien called Whitey, a scientist of the Kymellian race, to defend Earth from the Snarks invaders.
Set during their early days, rather than any modern-day reinvention, Power Pack: Into the Storm, a five-issue retro series takes readers back to Simonson and Brigman's original run, "a beloved era when Power Pack were Marvel's A-List team of kid super heroes. Although they were mere children, their powers made them brave beyond their years, and the threats they faced were far from childish!"
"This new series will capture that same spirit, as the group faces a cosmic threat tied to one of their fiercest foes. Up against factions of the Snark, the Brood, and more, it's a mission with enormous stakes that threatens the very stability of the cosmos. Luckily, Power Pack never fights alone! Fondly remembered for their exciting team-ups with Marvel's most legendary heroes, the series will also feature Power Pack's most loyal companion, Franklin Richards, as well as their frequent allies, the Uncanny X-Men!"
"Alex, Julie, Jack, and Katie Power are super hero siblings determined to do their part to protect the world despite their young age. The problem is that their parents don't want them to have powers–and can't find out that they do! But when their friend Franklin Richards has a premonition of a galactic threat hurtling their way, the Power siblings will have to decide what kind of heroes they want to be–and what they're willing to give up along the way!"
"It's funny how easy it is to slip back into Power Pack!" Simonson shared. "This story explores the looming question: Should Power Pack tell their parents about their powers? I loved hinting at Franklin's nascent abilities, one blocked by his parents, but too powerful for even them to contain completely."
"Loved introducing a couple of Snark princesses–good and tragic–and delving a bit deeper into Snark culture," she continued. "And I loved writing Alex, Julie, Jack, and Katie one more time. The X-Man Storm, who shares this adventure, also added to the fun. And, of course, June Brigman's art is evocative and lovely."
"I always love playing with the kids," Brigman added. "I hope everyone enjoys reading this great story as much as I loved drawing it!"
POWER PACK: INTO THE STORM #1 (OF 5)Written by LOUISE SIMONSONArt and Cover by JUNE BRIGMANOn Sale 1/24
Enjoyed this? Please share on social media!
Stay up-to-date and support the site by following Bleeding Cool on Google News today!
 Forty years after their creation, Power Pack is back from series original creators, writer and artist Louise Simonson and June Brigman, for 2024.  Read More